Cuomo is Now Referring to COVID-19 as the 'European Virus'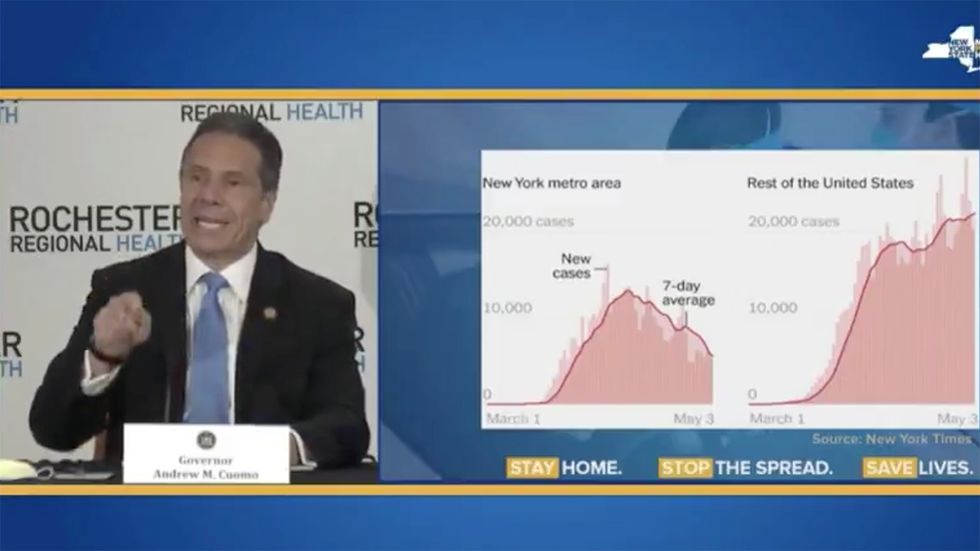 While New York has yet to return to normal, at least Andrew Cuomo has. He's back to being the obnoxious butthead we've all grown familiar with (see ANDREW CUOMO ANNOUNCES TESTING TO REOPEN NEW YORK. HIS PLAN IS HORRIBLE and ANDREW CUOMO TO UNEMPLOYED PROTESTERS: GO BECOME ESSENTIAL). You see, friends, now is not the time to politicize things, but it is the time to refer to COVID-19 as the "European virus."
During a press conference Monday, the Democratic governor addressed how coronavirus cases in the state are on a downward trajectory before labeling the virus as having originated in Europe rather than China.

Cuomo's comments come after reports that 3 million people traveled from Europe to New York before travel bans were implemented, which spread the virus to East Coast states.
Not "reports." A study. A single study that hasn't been peer-reviewed yet. According to the cult of the flying spaghetti scientist, being peer-reviewed is important. Also, the study doesn't go into how the virus got to Europe. Just that it is presupposed that some who contracted the virus in Europe brought it here.
Going with Cuomo's logic, we should call this the New York City virus, or maybe the DeBlasiflu. You know, because science says so. Over 90% of the outbreak in the Northeast can be traced to New York City. Over 80% of the outbreak in the South and Midwest too. Which is funny when you hear people from NYC attacking the governors of other states for opening or claiming Trump didn't take action early enough. You know, because had Donald Trump said that NYC should shut down, NYC would totes listen to him. They didn't listen as it was when they were told to self-isolate, and they spread the virus throughout the rest of the country. Hence the New York City virus.
If Cuomo wants the woke points, have at it. The rest of the country can start labeling the virus by where it originated from: Right under Cuomo's nose.
Covid Theme Song (Sick in New York) (Arthur's Theme Parody) | Louder With Crowder
Not subscribed to the podcast? Fix that! It's completely free.